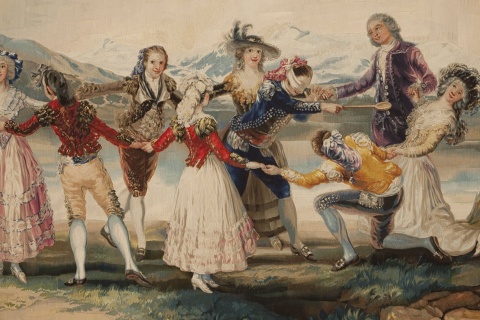 Gallery of the Royal Collections
Located next to the Royal Palace of Madrid, the museum houses an excellent selection of art works showcasing the richness and diversity of the Patrimonio Nacional collections. These are the result of the major role as collectors and patrons of the arts assumed by the Spanish Monarchy over time.
The Royal Collections Gallery is one of the most important museum projects in Spain in recent decades. The first surprise is the main building, a 40,000-square-metre building carved into the rock that is perfectly integrated into the surroundings of the Royal Palace. It extends from the Campo del Moro gardens to the palace's Plaza de la Armería, where the main entrance to the museum is located. Designed by the architects Luis Mansilla and Emilio Tuñón, the complex has been recognised with prominent architecture awards and offers unparalleled views over the Casa de Campo Park and the city of Madrid.Once inside, the protagonist becomes the 650 pieces that make up the impressive museum exhibition: a selection of paintings, sculptures, tapestries, furniture and all kinds of decorative arts, among other objects, which includes works signed by great artists such as Velázquez, Caravaggio, Goya, Titian, Bosch, Luisa Roldán and El Greco. The Royal Collections Gallery uses videos, models and different didactic resources to show the construction process of monuments like the Monastery of El Escorial and the Palace of La Granja, as well as the conservation and research work carried out by Patrimonio Nacional.Additionally, the museum features a temporary exhibition room and a large immersive cube where you can see 360º projections of the architectural and natural spaces of the Royal Sites; entrance is from Cuesta de la Vega (Campo del Moro gardens).
Gallery of the Royal Collections
---
Calle Bailén 8
28013 Madrid (Madrid Region)